Released last Wednesday to coincide with the launch of iOS 7, Diptic PDQ is a new streamlined mobile application for photo enthusiasts who want to create collages on the fly…and make them pretty darned quick.
Right out of the gate, Diptic PDQ was featured in the iTunes Best New Apps Category.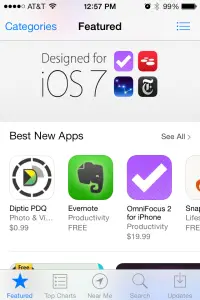 Here's what some of our reviewers are saying:
"It really is tough to find complaints within Diptic PDQ. It's just an all-round great photo collage app, and one that rightly deserves its place on everyone's iOS device." – 148 Apps

"Making Diptychs Has Never Been Easier Thanks To Diptic PDQ." – AppAdvice

"Diptic PDQ is perfect for quickly creating vacation photos, or pictures from a social occasion like a party or meeting. People you send them to will appreciate how nice they look."  – TUAW

"With the release of iOS 7 I was hoping app developers would embrace the new look and not fight against it. Diptic PDQ is a perfect example of a great app streamlined to fit into the new OS in a way which feels harmonious and like they just belong together. New new UI and UX is well thought out and makes creating photo collages quick and painless." – CP Digital Darkroom

"By condensing Diptic's high-powered photo features into an easier interface, Diptic PDQ's app developers have created a new user experience and, yes, it is pretty darn quick to use." – Digital Photography Review Connect
Diptic PDQ is compatible with iPhone, iPad and iPod Touch, and it is available worldwide from the iTunes Store. Diptic PDQ is priced at $.99 in the U.S. and is priced accordingly in other regions.