Talent Spotlight is a regular feature profiling the employees of UpTop. See the Talent Spotlight archive for more profiles.
What is your role at UpTop and what projects do you work on?
I am a developer; officially, a front-end developer but I have also done some back-end work in NodeJS as part of the MEAN stack. My first project with UpTop was adding a system for creating and managing workflows to a portal (using the MEAN stack).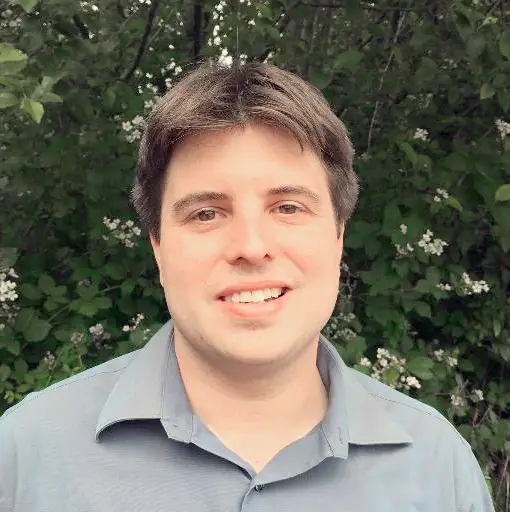 My current project is working on a portal for the customers of a colocation provider. The skills I am using for this project include HTML, CSS, and JavaScript/jQuery – with some JavaScript scriptlets that connect to an ERP system.
When did you first know you wanted to work in your field?
I have always loved technology. I took as much time on the family Commodore 64 as my older brother would allow me.
When I was 13, I started a BBS (Bulletin Board Service) on a hand-me-down 286 with a 2400 Baud modem. I created a website for my neighbor's company in the mid-90s (it's immortalized on the Wayback Machine).
I've been an early adopter not just of new products but paradigm changes – from "cord-cutting" six years ago, disconnecting our land-line 10 years ago; my first Internet-enabled cell phone was the Mitsubishi T250 back in 2001 and my Internet plan was measured in kilobytes!
What are some of your previous career paths?
I recently entered the technology industry; most of my experience is from manufacturing.
My first job while I was in high school was as a shipping clerk, which turned into a position as an IT manager and later still, a product design project manager for a construction tool and equipment manufacturer.
Later, I worked for a small medical equipment startup followed by a small machine shop where I was in outside sales before becoming their GM. From there, I was a sales engineer for a larger manufacturer before becoming their VP of Sales and Marketing several years later.
After 18 years I discovered that I had reached the top of the ladder but it was leaning up against the wrong wall, as the old saying goes. In any case, I have had a wide breadth of experience and am curious to see what synergies develop as I progress in my new career.
Where did you grow up?
I was born in Hawaii where we lived for awhile, then Guam, and finally to Kingston, Washington back when real-estate was much more affordable. I am very grateful that I got to spend many of my formative years 100 feet from a beach along Puget Sound.
What is your favorite app right now?
My favorite app that is clever and fun-to-use is CARROT Weather for the Apple TV – it's very cheeky!
However, based on the amount of time I spend in various apps, the winner must be the Apple News app (I was a big Zite user and never made the transition to Flipboard). After that, the Safari Queue app, followed by LinkedIn.
What is your favorite restaurant/coffee spot in Seattle?
I was away from the Seattle area for many years and while I was gone my childhood favorite, The Iron Horse, has closed. One place that is still around and that my wife and I enjoy is the Copacabana Cafe, a Bolivian restaurant just above the Pike Place Market.
What is something people might not know about you?
A couple of years ago, I spent some time to discover what my gift to the Universe was. I found that I am a "playful light-emitting incubator." I know that sounds a little heady, but it works for me.
Now that my work is more creative and less managerial, I gratefully get to share my gift much more frequently.
What other special skills or interests do you have?
I am a registered BJCP beer judge (home brew), I love soldering and building electronics things, and knitting occasionally. Also snowshoeing, hiking, and kayaking.
What is a guilty pleasure? 
I really enjoy news anchor and reporter fail videos; I can't tell you why exactly, but after a stressful day it helps me gain some perspective… or probably just provides some serious endorphins from laughing hysterically.
What is one of your career highlights? 
My previous career aside, performing dev demos for my first UpTop project to the project's stakeholders was definitely very rewarding. They seemed very engaged and loved to see what was new with the app and how the new features were working.
I also really enjoyed working with my team; we all realized that we were delivering something that wasn't just merely what the customer asked for, but instead what they really needed. I'm not sure if the client has formally launched the new service, though if they have I hope their customers enjoy using it as much as I enjoyed helping bring it to life.