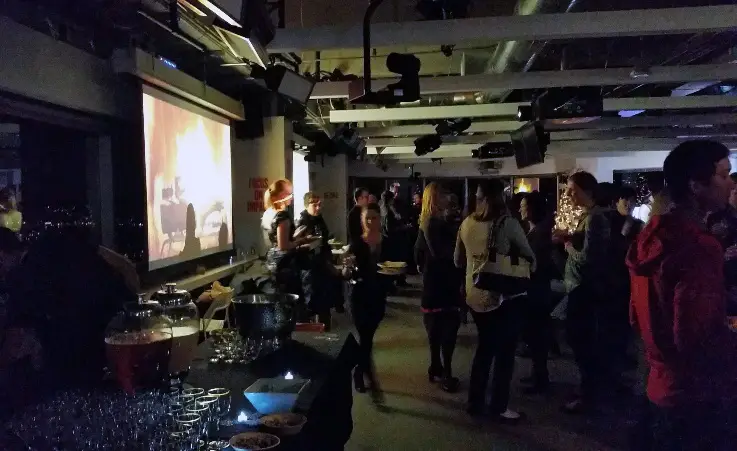 Thanks to everyone in the community who came out on Tuesday night to celebrate the first-ever Seattle UX Holiday Party at the Facebook Seattle campus in South Lake Union! We had a great time toasting our special honoree of the night, celebrating the event's non-profit partners, having fun with the giffy photo booth, networking and loading up on swag, booze and food.
What an amazing amount of talent that just converged onto the #uxholidayparty! We should do this more often. @uxpaseattle @pssigchi

— Rebecca Destello (@RebeccaDestello) December 10, 2014
A recap: .@anicello and Caroline of @facebook presenting tonight's champagne welcome at #Seattle #uxholidayparty pic.twitter.com/j7nzxfVVae

— Ryu (@UX_ryu) December 10, 2014
Celebrating a year in review at the @facebook UX Holiday Party @Pamela_Drouin #uxholiday #uxholidayparty pic.twitter.com/gy5C0BnjrY

— Megan Whalin (@MeganWhalin) December 10, 2014
Beyond the fun and celebration, the goal of the Seattle UX Holiday Party was to provide a place where all UX groups around Seattle could connect for the first-time as one as the year draws to a close. With over 200 people in attendance, UX professionals from companies such as Microsoft, REI, Moz, HBO Digital, Expedia, Tableau, Nordstrom, Macy's, Avvo, Google, Portent, City of Seattle and many more came together to review the events and accomplishments of the Seattle UX community in 2014.
Did you guys know this is the first time everyone from all UX groups have gotten together officially? #uxholiday #uxholidayparty

— UX Holiday Party (@uxholidayparty) December 10, 2014
Enjoying the company at UX Holiday Party in Seattle. So glad to see how collab can happen between all the organizations! #uxholidayparty

— Ben Simpson (@uxben) December 10, 2014
A big thank you to Misty Weaver, the Content Strategy Lead at Portent, for all of her help and hard work. Misty received a special award and public recognition in front of her peers on Tuesday night for her exemplary contributions and hours of volunteered time to the field of UX.
I was nice to see @meaningmeasure getting something special in her stocking from the #uxholidayparty — Scott Pierce (@scottpierce) December 10, 2014
.@Ipattis is holding up a plaque for @meaningmeasure for her incredible, inimitable work in the Seattle community #uxholiday #uxholidayparty — UX Holiday Party (@uxholidayparty) December 10, 2014
One of our partners, Sabrina Kang, interviewed several attendees at the event, asking them what they thought about Seattle's UX community and how they saw the field evolving. Below is a snippet of our very own Director of Business Development, Craig Nishizaki being interviewed for the piece.
Giffy, our event photo booth sponsor, provided us with a bunch of fun animated gifs from the night. You can see the full gallery at giffy's #UXHolidayParty page.
#Giffyapp #uxholidayparty http://t.co/cNpify1XmC pic.twitter.com/R520U254h9

— Michelle Ringgold (@RinggoldDesign) December 10, 2014
It's an addiction #uxholidayparty #ixda pic.twitter.com/B6OmUwESWc

— Emilie Thaler (@emiliethaler) December 10, 2014
In the spirit of giving back, we also heard from our three non-profit representatives about their charity's mission and technology needs in the New Year. They're all doing some really awesome things. Please check them out at Girls Can Do, Spreeha, and Puget Sound Computer Science Teachers Association.
Thanks to event sponsors UpTop, Facebook Seattle, HBO, REI, Projekt 202, Anthro-Tech, The Creative Group, Convey UX and Moz for making this special evening possible.
We also wanted to recognize the help and support of IxDA, UXPA, AIGA, ASIS&T, UX/IA Meetup and Content Seattle for coming together to help us forge a new path in the Seattle UX community.