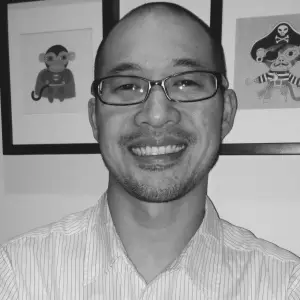 Talent Spotlight is a monthly feature profiling the employees of UpTop. See the Talent Spotlight archive for more profiles.
What is your role at UpTop and what projects do you work on?
I joined UpTop last August (2014) and was recently appointed as the lead of the user experience design team. My main focus is making sure I keep a happy and efficiently run group. This starts by connecting the right projects to the right people, leveraging their talents and making sure they're excited about what their working on. We're in the middle of establishing lean processes, toolkits and templates that will help streamline our workflows allowing us to work smarter, not harder. I'm also involved in day-to-day activities like assisting in business development with project scoping, staying on top of project resourcing by communicating daily with our PMs and assessing potential candidates that could be good additions to the team.
I work on a range of projects, spanning different platforms and areas of interest. One is a responsive web site for a leading entertainment production management company. Another is a vehicle trip data app on Android for an automobile software company. Then, there's an iPad app that's geared for children in a clinical setting to help them breathe and relax using multi sensory feedback and calming techniques. Last but not least, throw in some business intelligence design for internal tools and you have a hat full of tricks.
When did you first know you wanted to work in your field?
In my second year as an undergrad in UW's architecture program, things felt like they were going so slowly. Before it got too deep, I decided to ask my professor what the odds were of getting a job here in Seattle as an architect. She was honest and told me that it would be slim unless you were awesome and that you'd probably have to move abroad for opportunities. Being as impatient as I was back then, practical, and knowing I didn't want to live anywhere but here, I looked at my options and came across this brand spanking new program at Bellevue Community College that taught web authoring and media courses during the early days of the Internet. I took a chance, and the moment I attended my first class, I knew this was going to be my career — when going to school everyday was enjoyable and not a drag.
Where did you grow up?
Born and raised in Seattle's Rainier Valley neighborhood, I've experienced and seen a little bit. I think that's where I get my no non-sense mindset and thick skin.
What is your favorite app right now?
Right now, it would probably have to be Trello. I've been using other organization/management apps previously, but the power and simplicity of Trello is really helping me get stuff done. And I'm not talking just for work stuff, my personal life could benefit from using Trello as well.
What is your favorite restaurant/coffee spot in Seattle?
I love good food at good prices. Lately, I've been frequenting Musashi's in Factoria for their popular Chirashi bowls which are a bargain at only $15!
What is something people might not know about you?
Ten years ago, my wife and I bought our first home which was a fixer upper. We embarked on a renovation that would last a grueling 5 years while living through it all. At the start, I couldn't remember ever using a measuring tape prior. By the end, I became a home improvement junkie and in my eyes an amateur contractor. It's amazing what the Internet can teach you. From time to time, I still enjoy breaking out those power tools just to get a rush.
What other special skills or interests do you have?
Outside of practicing UX, and playing Tim "The Tool Man" Taylor, I'm all about my two sons (Maddox 6, Teagan 1), my Seahawks and watching movies. My family keeps me well-grounded and balanced.
Guilty pleasure?
I know fried chicken and pizza are one of the unhealthiest foods for you. But at least once a month, I get the best fried chicken in town (Quick Pack Food Mart on MLK and Jackson St) with an extra pepperoni pizza from Pagliacci's for the family —sooo good.
Career highlight?
Given the opportunity to teach an introduction to web design course at Bellevue Community College at the age of 22 was one that stood out. I was nervous as heck to take on that challenge, especially when most students were older than me, but decided that an opportunity like that comes once in a blue moon, so I did it. I was working at RealNetworks at the time so I brought first hand, practical knowledge and techniques to the classroom that the students appreciated. It turned out to be wildly successful.